In connection with the symposium, pre and post event activities include expanded workshops with the presenters at various locations throughout the province, as well as gallery exhibits within the lower mainland.
SATELLITE WORKSHOPS
Shadbolt Centre for the Arts
Soda Firing: Brush & Fire; a delicate dance
Workshop with Cathi Jefferson
March 17 - 23, 2020
$302.00
Barcode 511077
SOLD OUT, ADD to WAITLIST
Slabbery: hands-on workshop with Sarah Pike
March 22, 2020
$105.60
Barcode 508520
SOLD OUT, ADD to WAITLIST
TRADE SHOW
Be sure to visit the vendors' booths at the Trade Show where you will have a chance to check out and purchase the latest ceramic art tools, publications, and supplies, as well as find out about studio / educational programs and artist in residencies! Anyone interested in renting a table at the symposium trade show, please contact tradeshow.canadianclay@gmail.com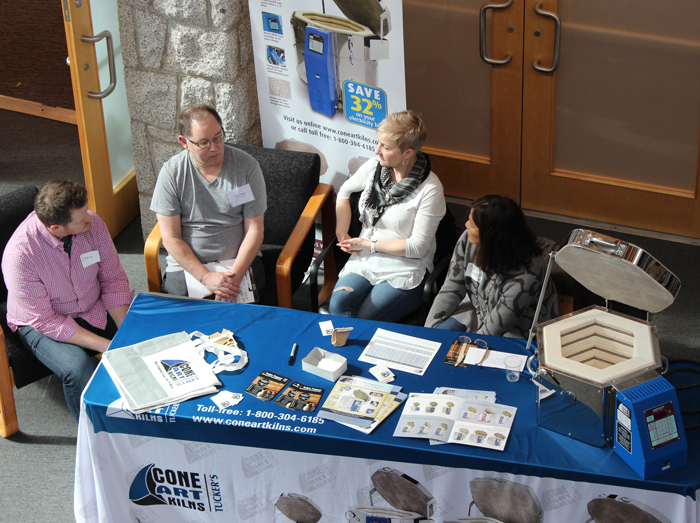 CERAMIC ROADSHOW
The Ceramic Roadshow has become a much anticipated Canadian Clay Symposium tradition. Every conference each one of you brings a piece ( a piece of your own, your favourite, oldest, newest, funkiest - whatever!) that you want to share with other potters for the day. It's an amazing show that comes together in less than an hour and features so many gems you'll always enjoy the experience. There have been pieces more than 500 years old to someone bringing the very 1st pot they ever made. You never know and it's always terrific! So be sure to bring a piece to Studio 102. Volunteers will be on hand to monitor the show. Please fill out and attach the Ceramic Roadshow Form to your piece.
MUG WALL
Don't forget to bring a mug, cup or tea bowl to donate to the Mug Wall (Studio 102), and $20 to purchase one! (cash or cheque only)
This fundraiser is sponsored by the North-West Ceramics Foundation with proceeds going into the Maureen Wright Scholarship Fund. Mugs change hands very quickly so don't lose any time—head for the Mug Wall as soon as you register! This is an opportunity to find a unique and rare sample of work from a huge selection of artists. Free coffee or tea is included with the purchase of a mug.